Hedge Reduced for Counsel Retirement Income Portfolio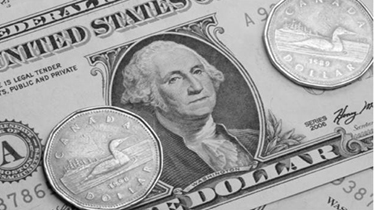 To view as a PDF, click here.
CURRENCY HEDGE REDUCED FOR COUNSEL RETIREMENT INCOME PORTFOLIO
The Portfolio Management Team lowered the currency hedge position on the U.S. dollar exposure for Counsel Retirement Income Portfolio from 90% to 50% in mid-July. This is consistent with the hedging strategy across all Counsel investment solutions.
The decision was based on the technical signals that the team monitors, which showed that the Canadian dollar had strengthened relative to the U.S. dollar to a point where it was trading significantly above both the longer-term and midterm moving averages. This indicates the likelihood that the trend for the Canadian dollar will reverse and fall relative to the U.S. dollar has now increased.
Why this matters to you and your portfolio
Currency risk can have a significant impact on the value of your overall portfolio. Through hedging, we help smooth out this impact. In short, a falling Canadian dollar (relative to the U.S. dollar) increases the value of your U.S. investments, while a rising Canadian dollar reduces the value. We hedge the U.S. dollar exposure as it is typically the largest component of currency risk in your portfolio.
The Canadian dollar traded well above the longer-term and mid-term moving averages, signaling that a lower hedge position will allow investors to benefit from a potential increase in the value of their U.S. dollar investments.
How this benefits you
Our portfolio management team monitors the movement of the Canadian dollar against the U.S. dollar carefully and adjusts how much of your portfolio is hedged. The goal is to minimize the risk of currency fluctuations in your portfolio. So, if the Canadian dollar shows signs of getting stronger relative to the U.S. dollar, we may turn on, or increase our currency hedge strategy to protect the value of investments in U.S. dollars. Conversely, if the Canadian dollar shows signs of weakness, the team may reduce or remove the hedge so that investors can benefit from an increase in the value of their U.S. dollar investments. At this time, the team is comfortable with a 50% hedge position, however, should the Canadian dollar continue to fall, our currency hedge may be reduced further. Currency risk protection is just one of many value added investment management services that we offer to help you achieve your investment goals.
To find out more about our currency hedge strategy, or to understand how this strategy can benefit you, speak with your financial advisor.
This report may contain forward-looking statements which reflect current expectations or forecasts of future events. Forward-looking statements include statements that are predictive in nature, depend upon or refer to future events or conditions, or include words such as: "expects", "anticipates", "intends", "plans", "believes", "estimates", "preliminary", "typical" and other similar expressions. In addition, these statements may relate to future corporate actions, future financial performance of a fund or a security and their future investment strategies and prospects. Forwardlooking statements are inherently subject to, among other things, risks, uncertainties and assumptions which could cause actual events, results, performance or prospects to differ materiality from those expressed in, or implied by, these forward looking statements. These risks, uncertainties and assumptions include, without limitation, general economic, political and market factors in North America and internationally, interest and foreign exchange rates, the volatility of global equity and capital markets, business competition, technological change, changes in government regulations, changes in tax law, unexpected judicial or regulatory proceedings, catastrophic events and the ability of the investment specialist to attract or retain key employees. The foregoing list of important risks, uncertainties and assumptions is not exhaustive. Please consider these and other factors carefully and not place undue reliance on forward-looking statements. The forward-looking information contained in this report is current only as of the date of this report. There should not be an expectation that such information will in all circumstances be updated, supplemented or revised whether as a result of new information, changing circumstances, future events or otherwise. Commissions, trailing commissions, management fees and expenses all may be associated with mutual fund investments. Please read the Simplified Prospectus before investing. The indicated rates of return are the historical annual compounded total returns including changes in unit value and reinvestment of all distributions and do not take into account sales, redemption, distribution or optional charges or income taxes payable by any security holder that would have reduced returns. Mutual funds are not guaranteed, their values change frequently and past performance may not be repeated.
---